Old Cars features a reader's 1942 Hudson Traveler Business coupe.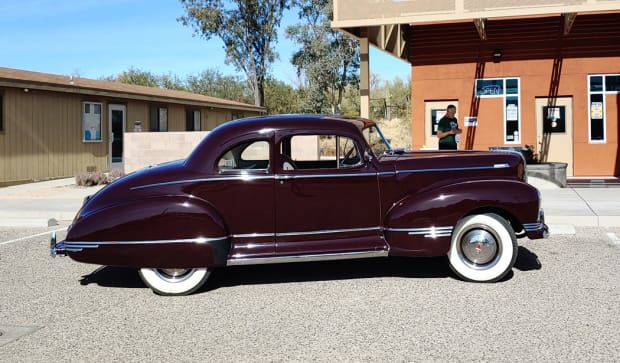 Warren Henderson finally found the Hudson of his dreams.
"Back in 1956 when I was fifteen, my older brother Paul was in the Navy, stationed at Brunswick Naval Air Station, Brunswick, Maine. He asked dad to find him his first car. What dad found was the most beautiful car I had ever seen. Now I had seen plenty of great cars before in my young life. My dad had owned a 1932 Nash Lafayette big six, four door sedan, then a '38 Dodge four door sedan, a '40 Buick Special four door sedan, a 1953 Pontiac station wagon and now his first ever new 1956 Pontiac Station Wagon; I have two brothers and two sisters, requiring big cars to fit us all in. My uncle George owned a 1934 Hudson Terraplane coupe, that I can still see in my mind's eye, Aunt Ann and him pulling up in front of our house and getting out those suicide front doors. What dad found was a 1940 Hudson sedan, in beautiful black paint, that shined like a mirror, I love the body on those cars, especially the back (no humpback, like the '38 Dodge). The interior was every bit as nice as any living room I had ever seen, and the back seat was more comfortable than any couch I ever sat on. This was a low mileage car and dad got it for a good price, the only problem with the car was it needed a new oil bath cork clutch, which meant dropping the drive tube and pulling the transmission to get at it. Oh, did I forget to say that I was no mechanic, I was working alone, and this was the first car I was going to work on. My "garage" was an open field across the road from our house. My lift would be the Hudson's bumper jack and my jack stands were stones from a nearby stone wall (Hey! I was 15 remember). So, with no knowledge "don't ask me how I managed to accomplish this", because even to this day I do not know. Somehow using a Motor's Auto Repair Manual, working afternoons after high school, I managed to get the transmission out, install the new clutch and get the car back together running like new. I can say that only because my brother Paul never had a complaint about how it ran.
Ever since that day I have always wanted a vintage 1940s Hudson car, and after over 35 years in the classic car hobby, I finally bought one, the car of my dreams a 1942 Hudson Six Traveler two-doo, 3-passenger coupe. I find the '42s better looking than even the 1940s, with their new grille and side trim. 
In 1942 Hudson made several positive changes and upgrades. Sheet metal "spats" on the lower body now covered the running boards and new wider front and rear fenders, the doors were now curved to minimize their prominence. If you are into driving 1930s and '40s cars, Hudson was a technical leader of that era and drove very well. Braking, often a complaint of vintage car owners, is not an issue with Hudson's Double-Safe system, a longstanding tradition of retaining a backup mechanical system linked to the brake pedal, in the event of a hydraulic failure. Wagner Electric invented a dual-cylinder brake system in 1960. This system has a dual master cylinder separating front and rear hydraulic lines. If one line developed a leak, the other line could still work. Double-Safe is especially welcome in vehicles with single-reservoir master cylinders, as all Hudson's were.
My '42 Hudson Six Traveler (I believe it was built around the end of October or early November in 1941), is a matching numbers (VIN#, engine# and frame#) and has all its trim pieces chrome plated or bright medal, something that they did not carry through for the remainder of the model year. The six-cylinder Hudson was by far the most often chosen engine option for the 1942, of which only 40,661 were produced. Any 1942 model car is quite rare, but the blackout models are even more rare. Only 5,396 1942 Hudson's were built, during the war. The "blackout models", also sometimes referred to as "victory models", were the cars built on and after January 1, 1942. My Hudson looks and drives the exact same way as the day it left the dealership. Showing a recent total restoration, unfortunately the dealership did not have any documentation as to when or who had done the work. My 1942 Hudson 20T business coupe road test, starting from a stop 1st, 2nd, 3rd gear shifts, speed bumps, steep grade and flat road, just like driving on old Route 66. 
Check out the video of the drive
I hope you enjoy my 1942 Hudson story as much as I enjoy owning and driving it.
If you would like your car featured in Reader Wheels click on the link below and tell us a little bit about your ride.

If you like stories like these and other classic car features, check out Old Cars magazine. CLICK HERE to subscribe.
Have you ever wondered what your classic ride is worth? Old Cars has you covered with the Old Cars Report Price Guide. We are your source for unbiased and real-world pricing. Subscribe today and find out what your car is really worth! CLICK HERE to subscribe.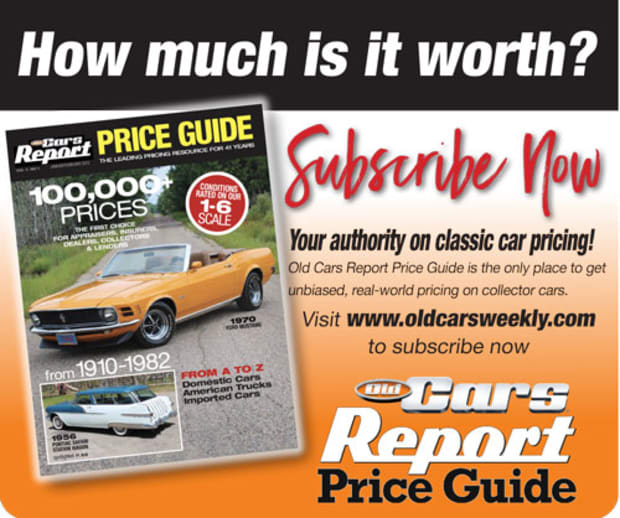 View the original article to see embedded media.
*As an Amazon Associate, Old Cars earns from qualifying purchases.