He kept his promise to the little old lady that sold him this stunning 1967 AMC Marlin.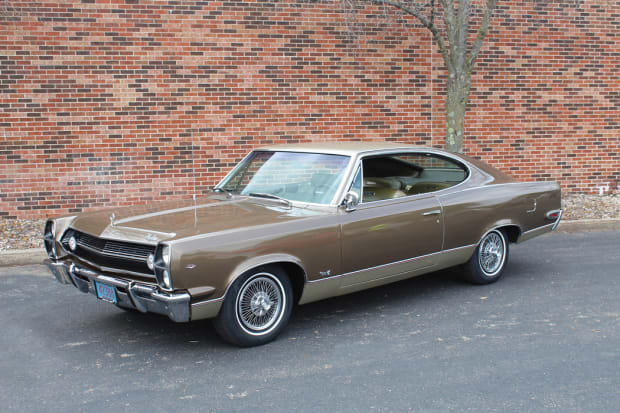 Bob Wunrow still feels a touch of guilt when he recalls buying his lovely 1967 AMC Marlin from the original owner. He didn't mean to fleece the little old lady that was selling the car. It sort of happened by accident.
"When I saw it for sale, she said she wanted $350 for it, and I said 'Oh, $350?' thinking that wasn't very much," recalls the resident of Wisconsin Rapids, Wis. "And she said, 'Well I'll take $300 then.' Then I couldn't get my money out fast enough!"
Even though the car had some rust issues and was going to need some work, Wunrow was thrilled with his low-budget purchase. He is a true AMC enthusiast and the perfect second owner for a car that was obviously loved and cared for by the woman who drove it home from the dealer showroom.
Before he got the car home, though, Wunrow had to make a promise. 
"When I came back to get it there was a note on the car that said, 'Bob, when you restore this car please bring it back and show me.' I had told her I was going to restore it because there had been a couple holes in the front fender and some rust problems. It needed to be restored."
It took a while, but Wunrow held up his end of the bargain.
"It was almost seven years to the day," he says. "I called up the number not knowing if she was still alive and the husband said yes, she's still alive and she keeps asking, 'When is that fella gonna bring back my Marlin and show it to me?' When I came over there she was still in the same house and he wheeled her out and she was on oxygen and everything and she was so happy to see it. We opened all the doors and trunk and everything and she said it looked like brand new. I was really happy I got to show it to her. Then I read in the paper a few months later that she had passed away … but for several years after I would always see her husband around and he would look at it."
By the time Wunrow adopted the Marlin, he was already a confirmed AMC fan. The Kenosha plant where the cars were made was only about three hours away from his home and Wunrow got hooked on them at a young age.
"My first car was a '68 Ambassador, and I sold it when I bought my new '77 Hornet AMX, which I still have," he says. "I loved that Ambassador so much that I wanted another one and I then I saw the Marlin, and I always loved the Marlins, too. This is built on an Ambassador frame and the front is like an Ambassador so I just got hooked on that …I always liked the Ambassadors and when I was a kid I spent my summers in Kenosha and my uncle worked for American Motors and that was the first time I saw a Marlin."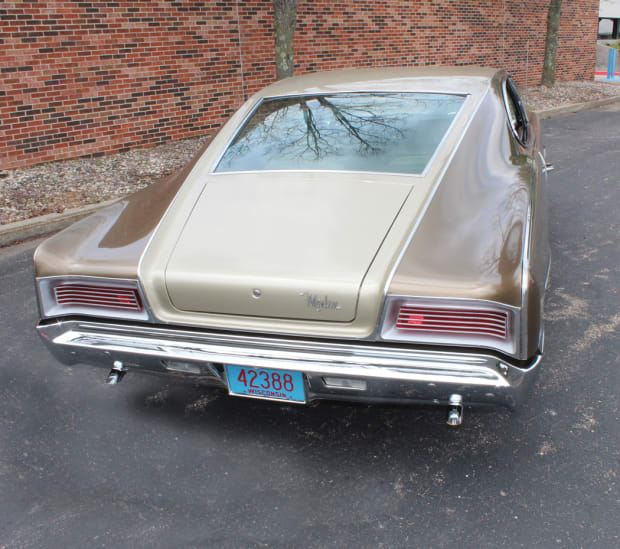 UNCHARTERED WATERS FOR AMC
American Motors Corp. was venturing down a new path in 1965 when the company launched its mid-size Marlin hardtop coupe. At the time, the company had rarely strayed from its blueprint for small, practical, inexpensive compact cars.
This Marlin was something completely different — a curvy, handsome blend between a family car and the sports and muscle cars of the era. It was hard not to compare it to the Charger with their calling-card fastback rooflines. Where the Charger quickly became known as a muscle machine, the Marlin was something of a "tweener" — which should have made it appealing to different audiences, but instead probably hurt sales in the long run.
"Seeking a corner of this market untouched by the competition, AMC emphasizes Marlin as a sports-personal car for the entire family," Motor Trend magazine opined. "This isn't quite the contradiction in terms that it seems, for the head of the family spends a fair part of the day alone in the car. It is the only sports/ personal car capable of transporting six adults, so a family with several children does not have to be a 2-car family, though it probably will be anyway."
For 1967, the Marlin was bigger and smoother looking, and the wheelbase grew by half a foot to 118 inches — sharing the same platform as the Ambassador. The hood was longer, the rear fenders featured a "Coke-bottle" profile and the lines of the Marlin were very Charger-like.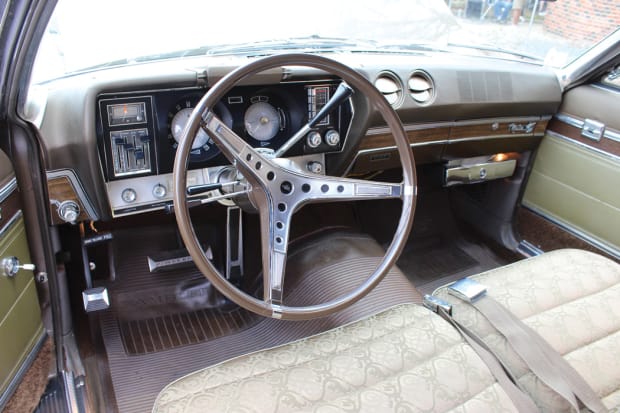 There were smoother body sides, a new rectangular gas filler door and Rally lights incorporated into the grille. Side marker lights could be seen on the trailing edge of the rear fenders, just ahead of the wraparound rear bumper ends. A full-length lower body molding followed the pattern seen on Rebels, arching over both wheel housings. The round medallion was removed from the trunk lid for 1967. The forward edges of the front fenders were decorated by V-shaped badges.
The cars came with one of three base engines: a 199-cid six-cylinder rated at 128 hp; 232-cid six-cylinder rated at 145 hp; and a 287.2-cid V-8 — called a 290 by AMC — rated at 200 hp. Buyers who wanted most gusto could upgrade to a four-barrel 290 rated at 225, or a 343-cid V-8 rated at 235 hp for the two-barrel or 280 hp for with a four-barrel.
A three-speed manual transmission was the base offering. Adding overdrive was a $115 upgrade on the Marlin. Bench seats were standard, and you had to pony up about $280 extra if you wanted buckets and a center console.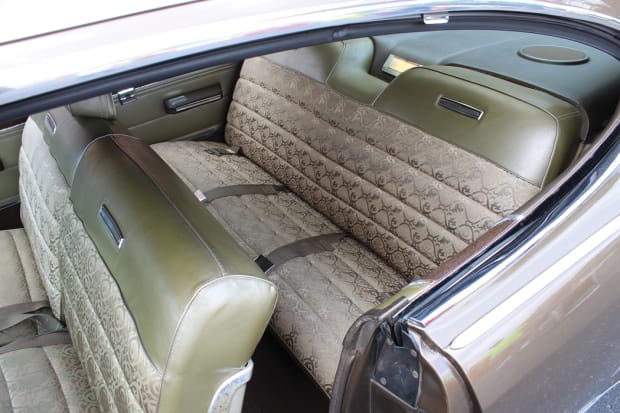 Other noteworthy Marlin options included Adjust-O-Tilt steering, cruise control, 8-track stereo, air conditioning, electric clock, tachometer and vinyl upholstery, which was actually a $15 upcharge. The base factory price for the six-cylinder Marlin was $2,668. The 290 V-8 was about 100 bucks more.
Along with its sloping rear profile, perhaps the Marlin's most distinctive feature was its tiny trunk lid. The curved deck lid was squeezed between the two large tail light assemblies and below the huge rear window, leaving plenty of room inside for cargo, just not much of an opening to get at anything.
For all its sporty styling cues and sleek silhouette, the Marlin probably rode and handled more like a big '60s cruiser than a performance car. Measuring more than 201 inches from tip to tip and weighing at more than 3,300 lbs., it was not a bantamweight machine.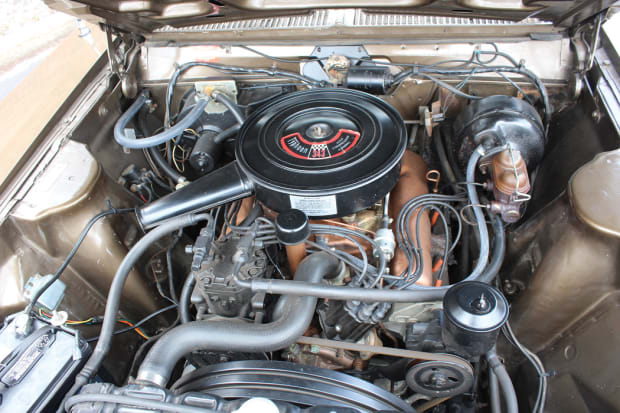 In the end, only 17,419 Marlins rolled off the assembly line, including just 2,545 of the 1967 versions. In a tale that was similar to a lot of models made in the AMC family from the late 1950s through the early 1970s, the Marlins just never quite had enough corporate stability and enough marketing push to last very long.
"They stopped production on Dec. 31 of 1966. When 1967 started they had already ceased production of the '67 Marlins," Wunrow pointed out. "The Javelin was coming out and they were going to save their money for that, I guess. According to [the local dealer], this was the only '67 Marlin he ever sold. He only got one in and that was it."
44 years and counting…
Other than some rust issues on the front half of the car, Wunrow says his Marlin wasn't a particularly difficult restoration project. The car had 88,000 miles on it and had suffered some of the ravages of Wisconsin winters, but mechanically it was excellent and the interior as like new.
By far the biggest challenge was figuring out what to do with the rocker panels — or lack thereof.
"The rocker panels were completely rusted off. There were no rocker panels. Behind the wheels, it was actually gone," Wunrow chuckles. ""I used to work at Freeway and there was a guy that worked there that was a good punch-press, metal bending man and it was hard to find panels and stuff so he actually restored it for me. He actually made the rocker panels for me. He restored a lot of cars … Nowadays you can probably find the replacement panels, but back in 1985 there wasn't much. He said he could do all that and repaint it. It was probably a good deal, he charged me $700 in 1985!"
"He painted the car, put all the metal in there. I bought the fenders, so he didn't have to do those. The interior is basically the way I bought it. We never had to do anything with the interior. It's like the back seat was never sat in, and the front was good."
Wunrow kept the original two-tone color combination of Yuma Tan and Stallion Brown. Almost of all the trim pieces are original, too. 
"I never replaced any of the trim work. Luckily it's not bad. Little by little I did find things like NOS taillights and NOS headlights and directional lights … bumper guards …. It didn't have a hood ornament when I bought it, so I got that. The local dealer, Johnson & Sons, they actually had a hood ornament in their inventory. I couldn't believe it."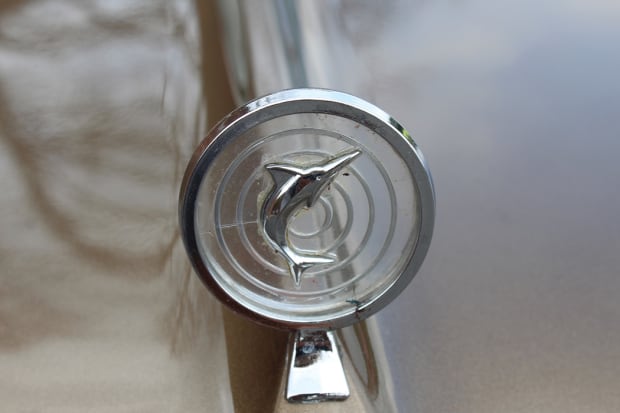 As Marlins go, Wunrow's car was definitely on the fancy side. It had almost every available AMC option at the time, including air conditioning, tilt steering, power windows and tissue dispenser.
"I did some research and there are only about 5 percent of these cars had the power lift windows. You don't see many AMC cars from the '60s with power windows," he says. "It only has a headrest on one side .. that's apparently how they ordered it, with just one headrest. And it does not have cruise control. That's of the few options it doesn't have. It's got an AM radio. It's a 343 four-barrel, high-compression. And AMC didn't call it positraction, they called it "power twin wheels". At a red light if I wanted to I could really smoke the tires because they both turn at the same time. It does have power. And of course it has the dual exhausts, being a V-8."
"But I really drive it like an old grandpa. I don't think I've heard that chirping sound in quite a few years [laughs]."
Wunrows put new tires on the Marlin this year for the first time since 1987 — the same year he got married. 
"This was our wedding car!" he says. "I bought new tires for it when we got married and they were still on it until recently, and they didn't look too bad."
Wunrow says his son has already called dibs on the car someday, so it's highly unlikely the Marlin will be for sale again anytime soon — if ever. It's lasted 44 years with its second owner and is an orphan that clearly landed with right forever home.
Like the original owner, however, Wunrow does have one request.
"I told my son there's one thing that he can't do to it; he can't put any loud mufflers on it [laughs]. When I will it to him it will have stock mufflers on it, and when he owns it he can't change the mufflers on it and make it loud."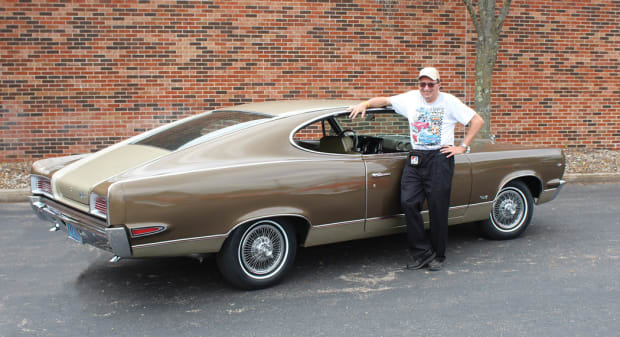 SHOW US YOUR WHEELS!
If you've got an old car you love, we want to hear about it. Email us at oldcars@aimmedia.com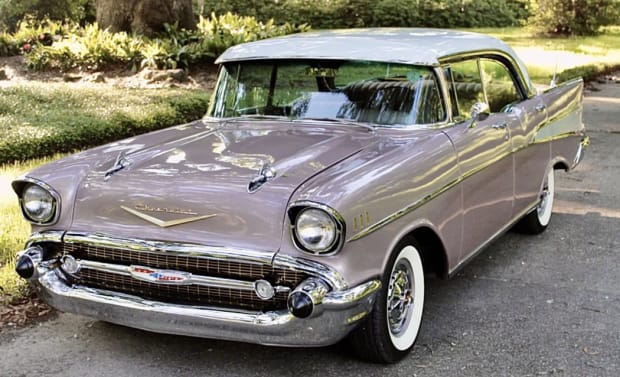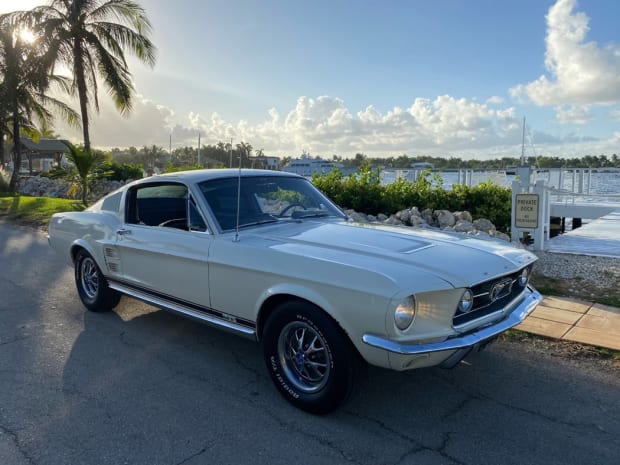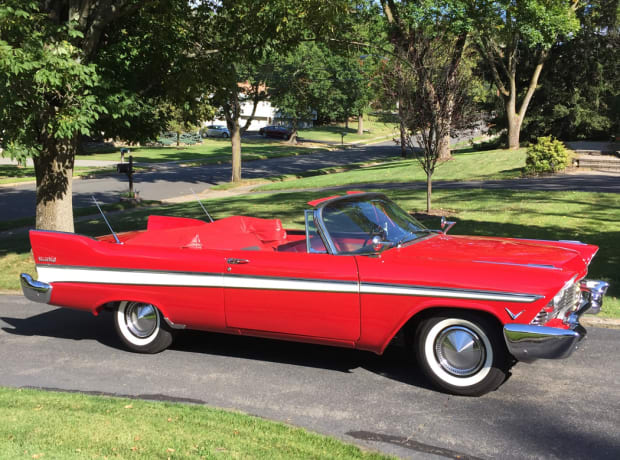 If you like stories like these and other classic car features, check out Old Cars magazine. CLICK HERE to subscribe.
Have you ever wondered what your classic ride is worth? Old Cars has you covered with the Old Cars Report Price Guide. We are your source for unbiased and real-world pricing. Subscribe today and find out what your car is really worth! CLICK HERE to subscribe.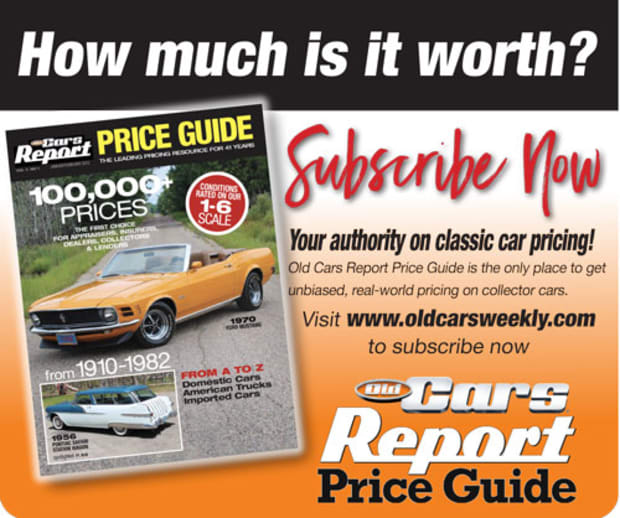 View the original article to see embedded media.
*As an Amazon Associate, Old Cars earns from qualifying purchases.